Rack LED Top Light

Rack LED Top Light
The SKY is a 6 or 8 bar light fixture designed for close proximity lighting either in a vertical system, low mounting in a warehouse, or indoor grow tent applications.  This powerful, full-spectrum light source is intended for full term plant growth from the vegetative stage to the higher light required in bloom stage.
340W/630W/720W Fixture Shown.
Our Most Powerful, Full-Spectrum Light Source
Driver
World class LED driver. Input options Auto Sensing 90V-305V and 245V-528V.
Dimming
SKY 9 is dimmable in 900W, 720W, 540W, and 360W.
SKY 7 is dimmable in 720W, 580W, 430W, and 290W.
SKY 6 is dimmable in 630W, 500W, 380W, and 250W.
SKY 3 is dimmable in 340W, 270W, 200W, and 140W.
Control
0-10V (Option) Fixture is equipped with an external RJ14 cable and allows for daisy chained installation of up to 160 fixtures per controller (80 fixtures per controller port).
Spectrum
Our Broad Spectra offers light emission across the PAR 400-700nm wavelength range. We balance efficiency with quality of light to achieve the desired plant response and work environment.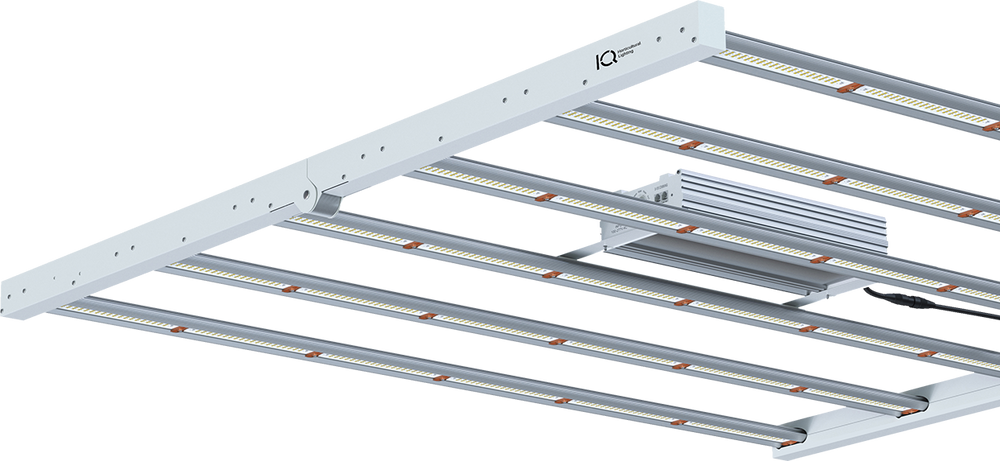 Details & Specifications
SKY Specifications
Input Power
340W, 630W, 720W, or 900W
Efficacy
2.8, 2.7, 2,6 or 2.65 μmol/J
PPF
952, 1700, 1870, 2385 μmol/s
Input Voltage
120V - 277V; 277V - 480V
Mounting
≥ 6" Above Canopy
Thermal
Passive
Life
50,000 hrs
Power Factor
> 90%
IP Rating
IP66
Certification
UL8800, UL 1598 Wet
Warranty
5 Year Standard
Ambient Temp
-10°C / 40°C
Storage
-40°C / 85°C
Accessory
6' extension power cord
Dimensions
Length
45.7"
Width
41.7"
Height
2"
Weight
340W/630W/720W - 27.5lb / 12.5kg
900W - 39lb / 17.7kg
SKY LED Warranty
5 Year, No Hassle, No Questions Asked Warranty We've been in the lighting supply business for 10+ years. No risk, unlike these other new fly-by-night grow light companies.
Warranty
Controller
The IQ EZ Smart Controller eliminates the need for switching, is easy and safe to install, protects against short circuiting and can control up to 160 luminaires.
$199.00